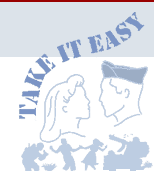 Take It Easy is a musical set on a college campus in World War II, which follows the lives of three privates drafted out of their college lives and into the Army's Specialized Training Program (ASTP) at State University. Here, in old fashioned musical tradition, boys meet coeds and love blooms.

Take It Easy deals with a seldom recounted period of World War II history when over 200,000 of our army inductees were enlisted in the Army Specialized Training Program (ASTP). The ASTP was in operation from 1942-1944 on many college campuses, and was part of the lives not only of the ASTP soldiers, but also of their families and their sweethearts or friends who were among the undergraduate coeds enrolled at the same time. This story is about young men who were taken from their college campuses as civilians to find themselves on other college campuses in uniform. It is also about the girls who saw their boyfriends leave to go to war, and shortly thereafter, were presented with a new crop of young men to console them, if only temporarily. As was the case with some ASTP units, they were abruptly disbanded to provide front line ground troops, which many times resulted in tragic casualties.

Like the movies of the '40s Take It Easy is filled with innocent youth, pure love, and winning the war. Rich with "new" hummable tunes done in '40s style, Take It Easy gives its audience a chance to relax into a colorful era when the lines of right and wrong, good and evil were more clearly drawn.